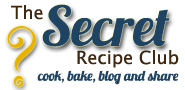 This month, I had the pleasure of whipping up something delicious from Sarah's blog, Sarah's Kitchen.
Sarah is originally from Kent, England but moved to the US and became a US citizen in the early 2000's. Sarah loves to shop with coupons and cook, cook, cook!
I had such fun choosing a recipe from Sarah's Kitchen!
I made a few changes to the recipe just to lighten it up a bit (the original called for 2 cups of heavy cream – which sounds delicious, but deadly!) I sometimes worry about substituting milk for heavy cream since it can yield a much runnier sauce, but in this case, 20 minutes in the oven thickened the sauce right up!
To wrap up, I'll leave you with two quotes uttered by my husband while eating this meal,
"Are there three meats in this? Yes!"
"I can't stop eating this – I just want more and more!"
Yep, it's a winner, folks. Thank you Sarah, for a wonderful recipe!
*Because I have a couple little pasta fanatics in my house, I used a 14.5 oz box of penne plus pasta. If cooking for just adults, I would use 10 oz of enriched pasta.
Chicken Cordon Bleu Pasta
10-14 oz uncooked penne pasta (see note)
1 large clove garlic, minced
8 oz cream cheese, preferably 1/3 less fat
1 ½ cup shredded swiss cheese, divided
2 large chicken breasts, cooked and cubed
Preheat the oven to 350 degrees F.
Cook the pasta in salted water according to package instructions. Drain and set aside.
Cut the bacon into 1-inch pieces and cook until crisp. Drain the bacon, reserving about 1 teaspoon of the drippings in the pot. Set the bacon aside on paper towels to drain.
Add the garlic to the reserved bacon drippings. Cook over medium heat until fragrant, about 30 seconds. Add the cream cheese and stir until melted.
Whisk in the milk and onion powder. Cook until heat through, but not boiling. Add 1 cup of the swiss cheese, stirring until melted.
Meanwhile, mix together the pasta, chicken, ham, and bacon. Place the mixture into a large baking dish. Pour the sauce over the pasta mixture, followed by the remaining ½ cup swiss cheese and the panko.
Bake in the preheated oven for 15-20 minutes or until the sauce is bubbly and the panko begins to brown.