Today I am sharing with you what is sure to become a favorite chocolate chip cookie in my house. And it is also my first month joining in the fun of the Crazy Cooking Challenge! So here's how this one works…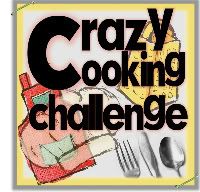 Each month, the participating bloggers are assigned a specific food. Then, the bloggers go out to the blogosphere and each bake up and post of variation the month's food. So, since there are 100 bloggers joining in, you will see 100 scrumptious recipes for chocolate chip cookies (this month's topic) below! Can't you smell the deliciousness baking already?
Take time to peruse the recipes below and then head on over the the Crazy Cooking Challenge page and vote for you favorite...like maybe some scrumptious Toffee Chocolate Chip Cookies...hem, hem...
I've made quite a few chocolate chip cookies in the past, so I was eager to try something new. I debated trying out a stuffed cookie, but then decided to go for a simple variation of the classic. Though simple, the addition of toffee in this recipe adds a definite wow factor.
*The original recipe called for 1 cup of butter, but I changed it to Crisco, since that's how I grew up.
*The most common English toffee bars available are Heath and Scor – you can use either so something similar
*There are also toffee bits available in the baking section of many stores, just use 1 ½ cups of these in the recipe.
Toffee Chocolate Chip Cookies
2 ¾ cups all purpose flour
1 cup solid vegetable shortening (I prefer Crisco)
5 English toffee bars, chopped
1 cup semi sweet chocolate chips
Preheat the oven to 350 degrees F. Line baking sheets with parchment paper and set aside.
In the bowl of a stand mixer, beat together the Crisco and sugars until smooth. Add the eggs, one at a time, beating until each is combined. Add the vanilla and mix well.
Gradually add the dry ingredients, mixing on low speed until combined. Stir in the toffee and chocolate chips using a spatula.
Using a 2 tablespoon cookie scoop, drop the cookie dough onto the prepared baking sheets, at least 1 inch apart. Bake for 12-14 minutes or until golden brown. Cool for 5 minutes and then move the cookies to a wire rack and cool completely.